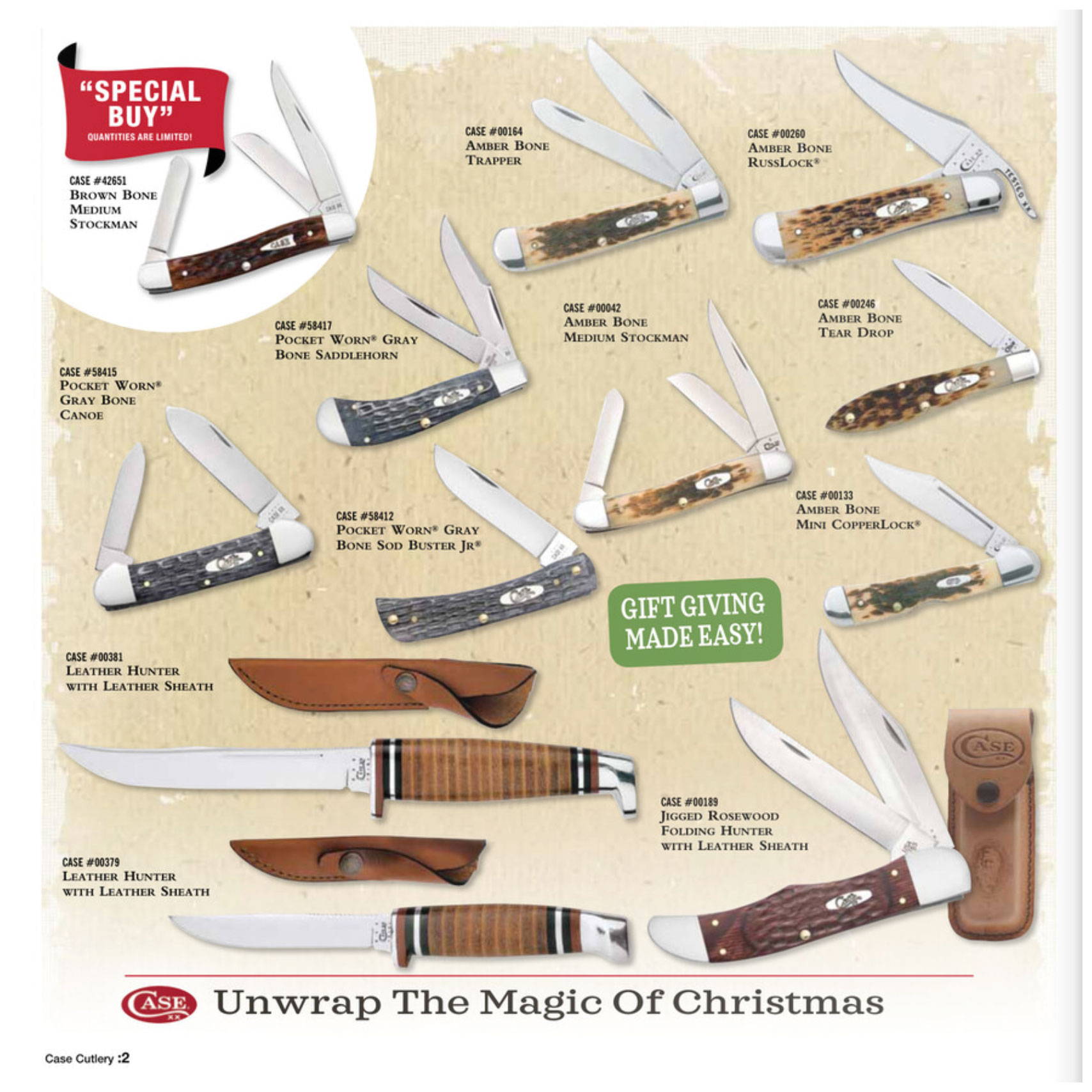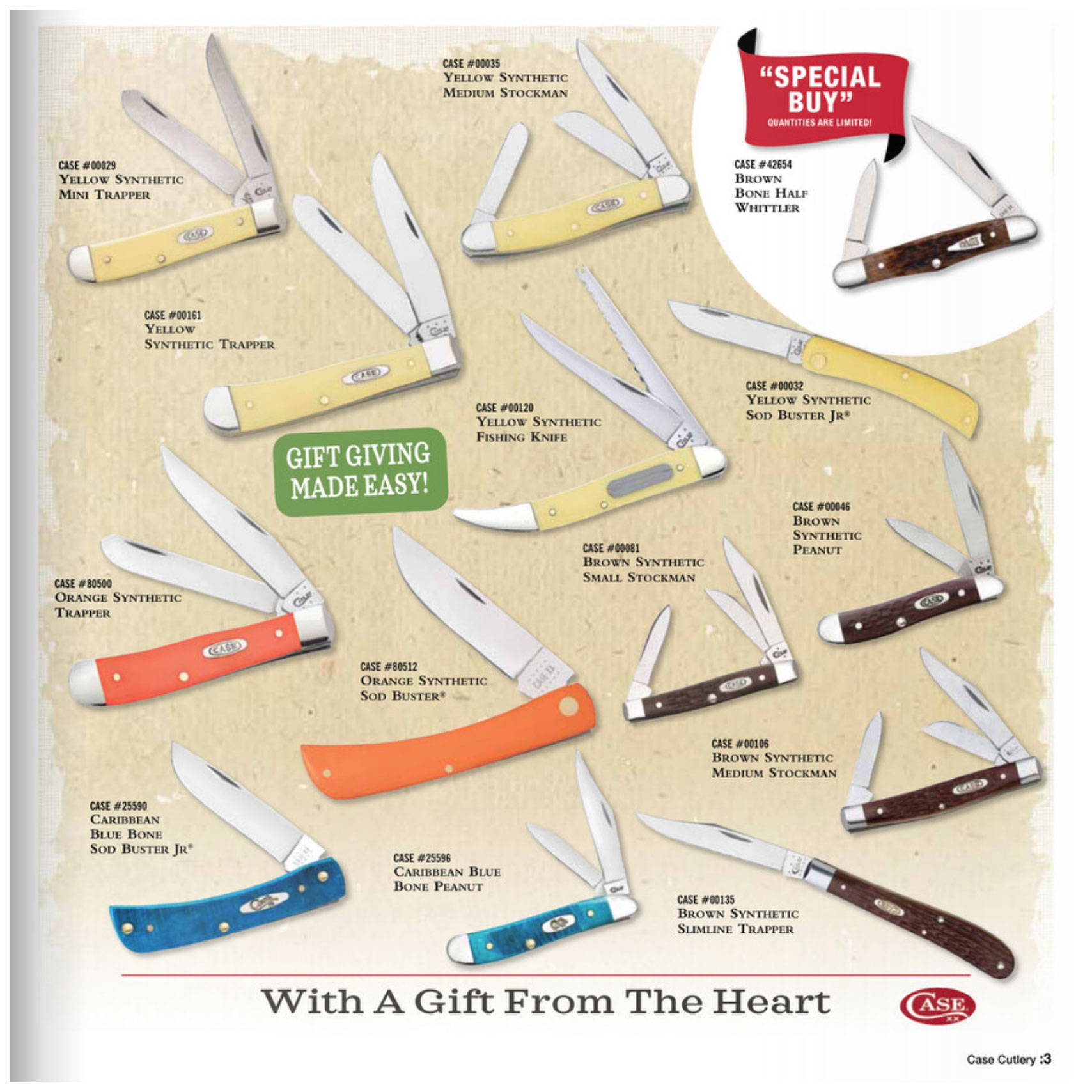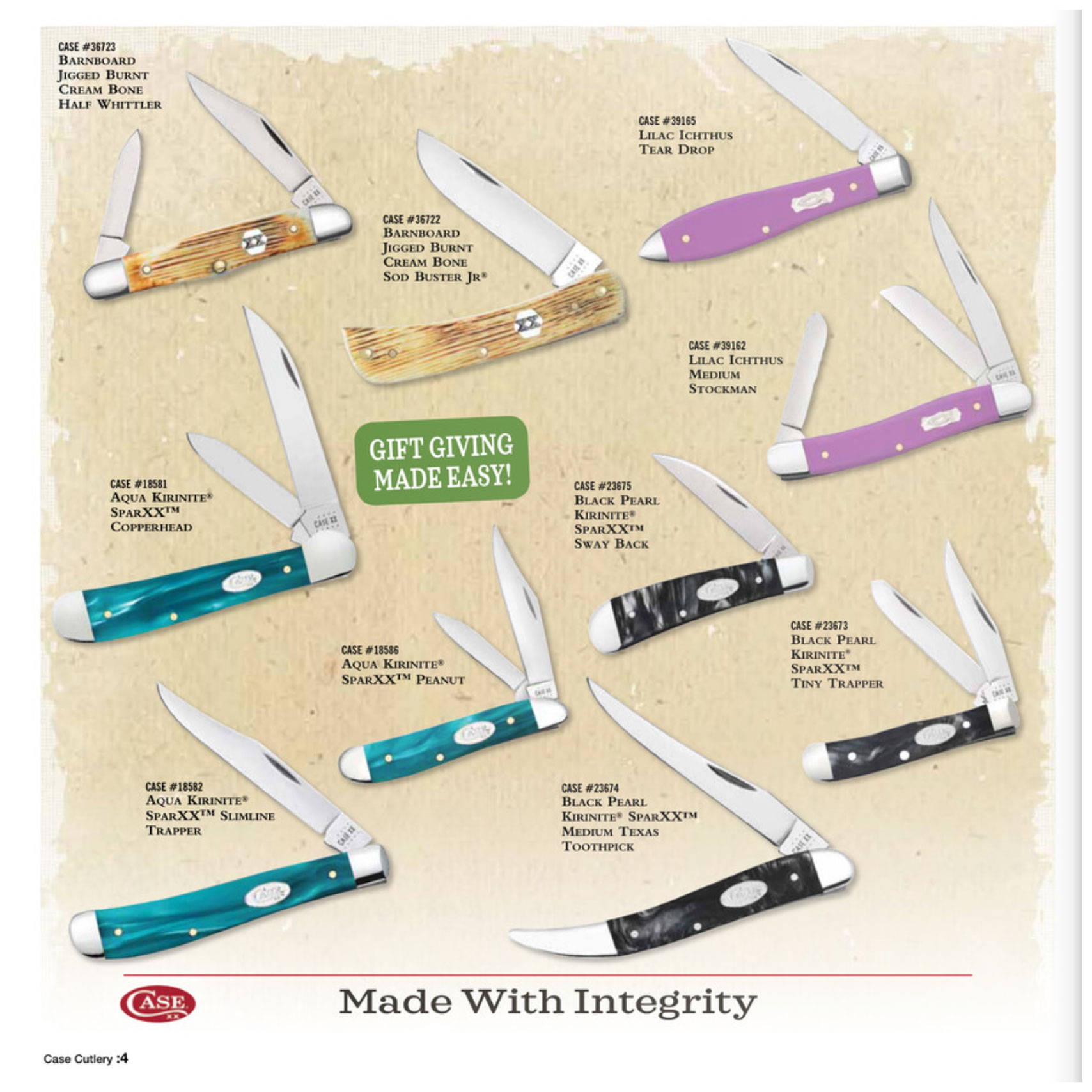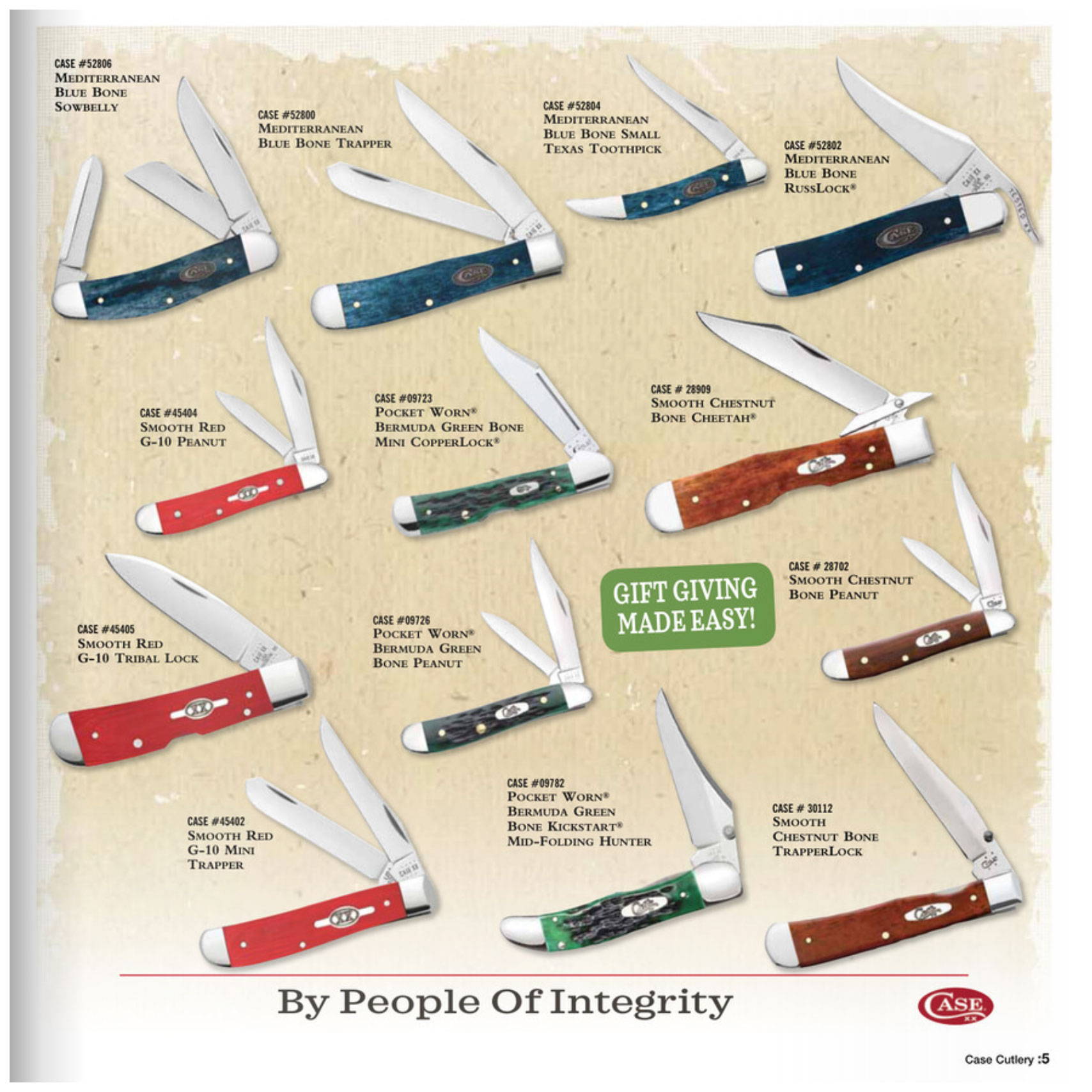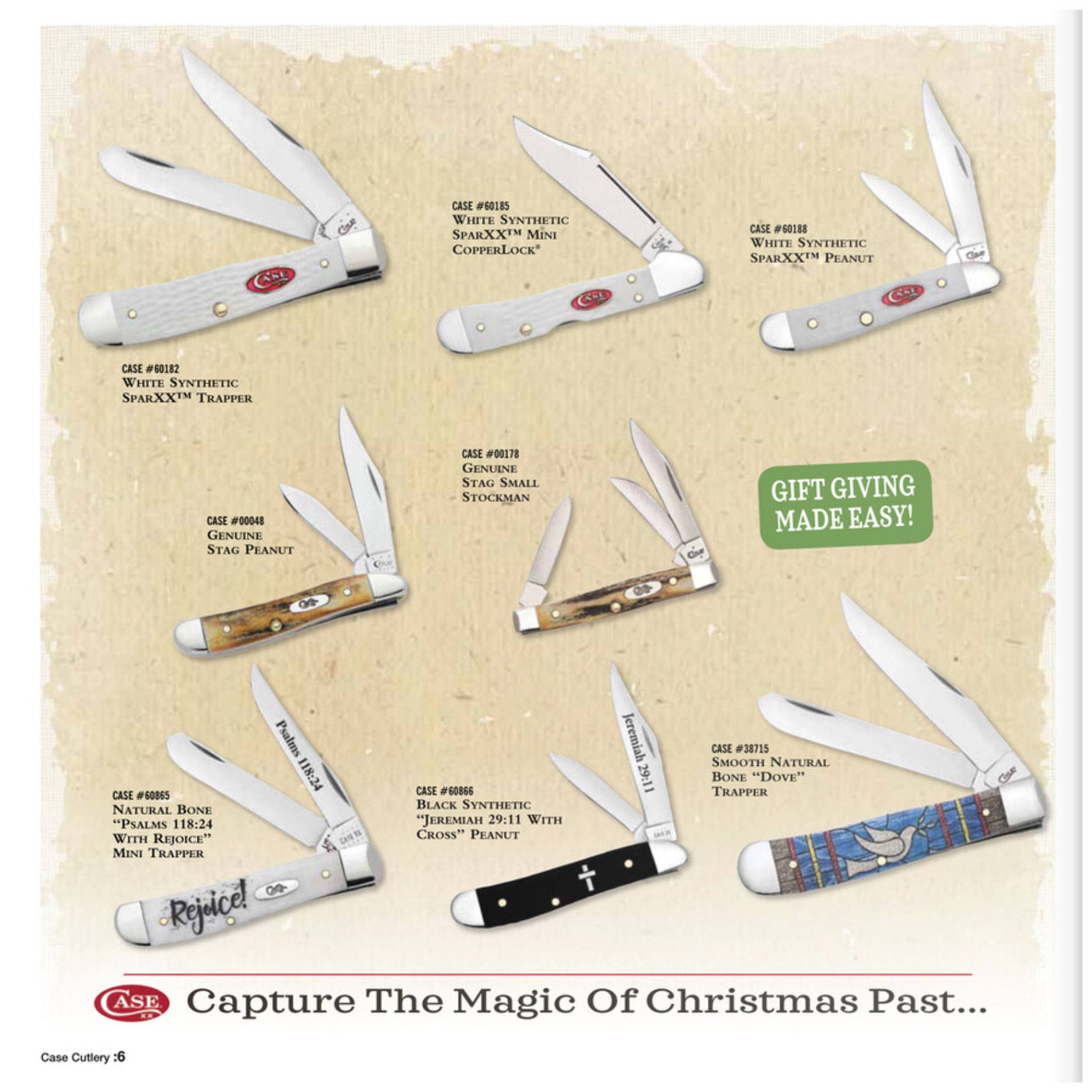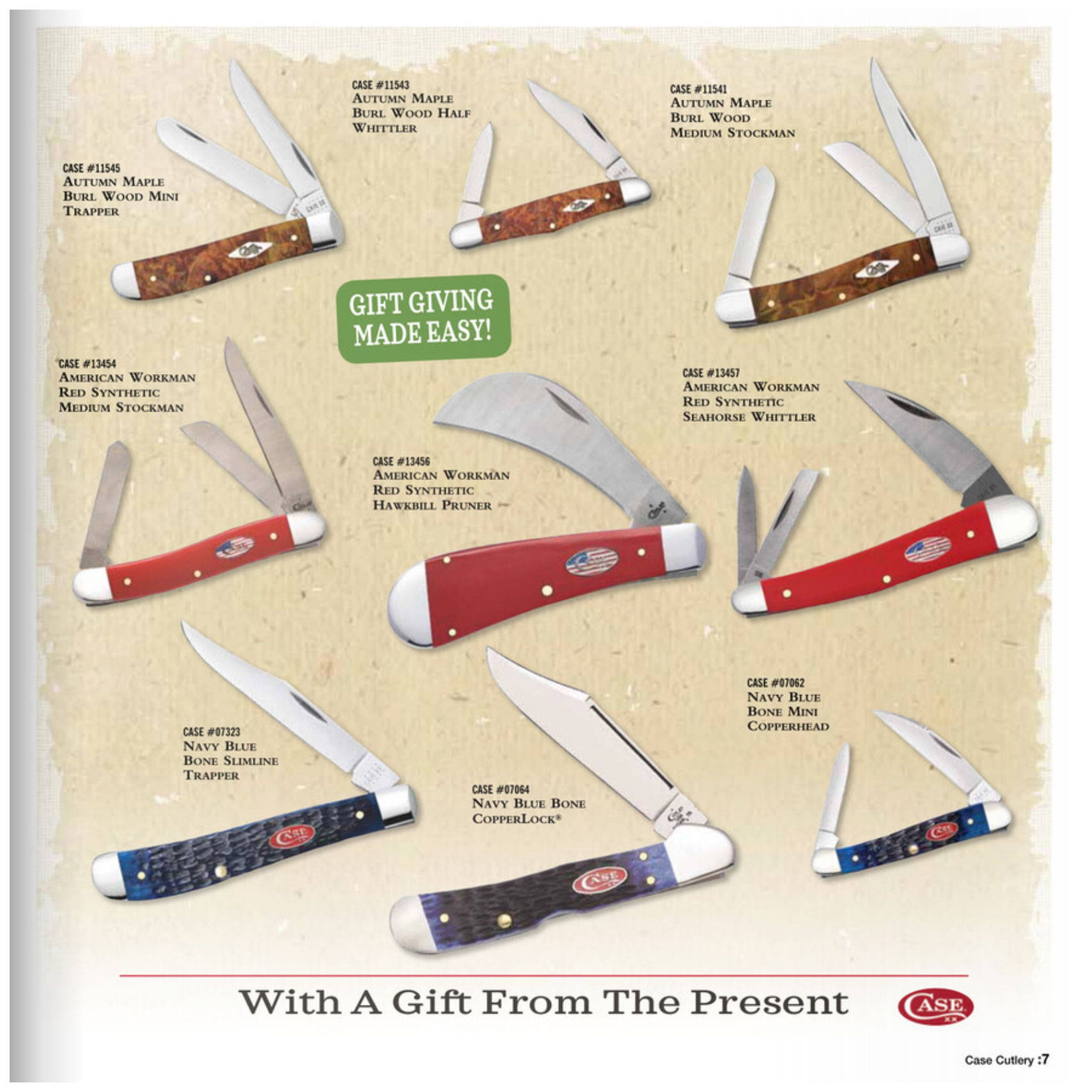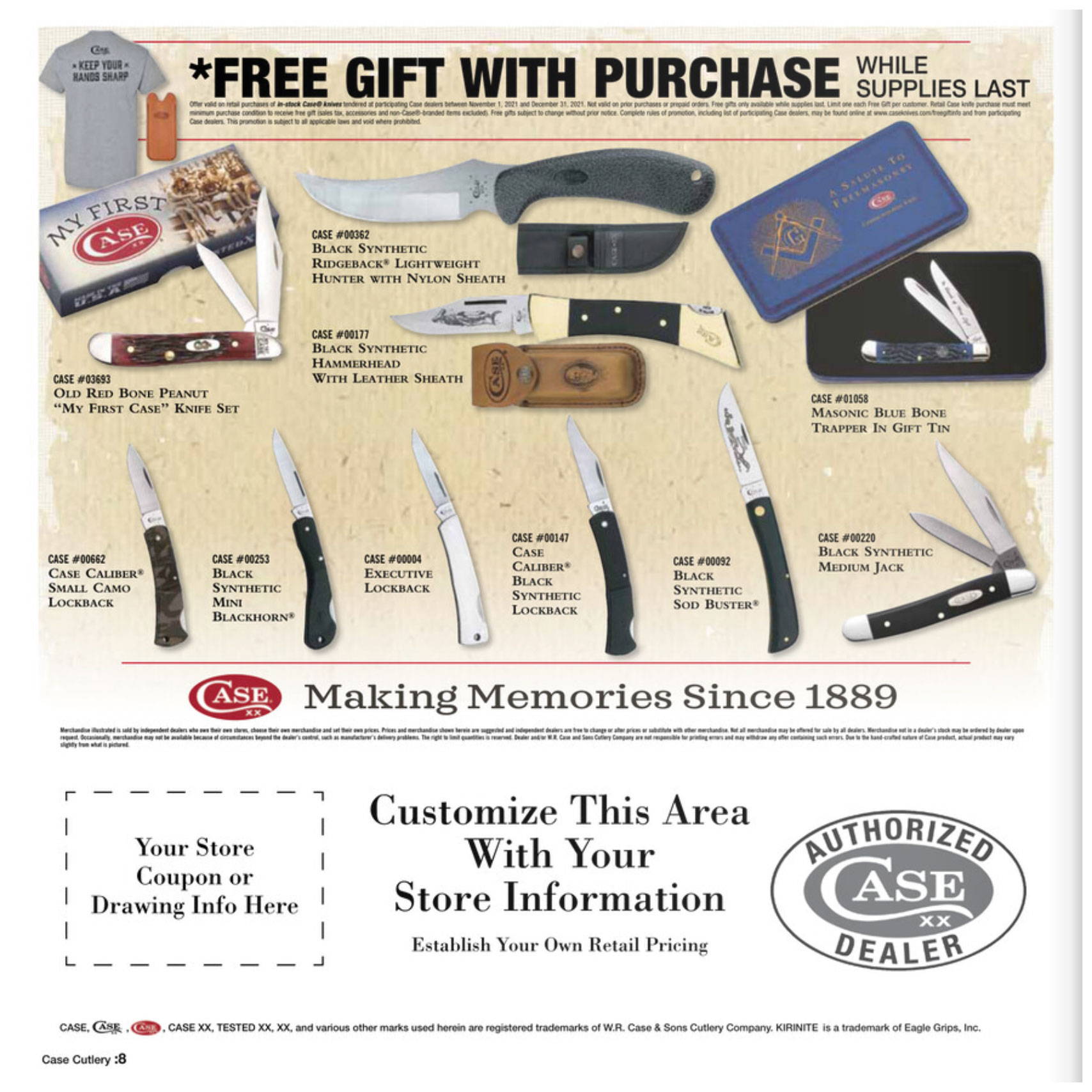 Shop Our Dealers For The Holidays
Christmas is right around the corner! Case knives make a great gift for the loved ones on your shopping list. The Case Authorized Dealers listed below have added this seasonal circular into their local area newspapers to help you shop Case knives for Christmas! Just scroll down to find your local participating dealers and get a start on your holiday shopping!  
Case Christmas Tradition:
Magician's Copperhead Knives
Something special will be under the tree this year if you pick up this Case Authorized Dealer Christmas Circular Exclusive. This Limited Production Magician's Copperhead features a Bright Green Bone handle on the mark side (front) of the knife and a Dark Red Bone handle on the pile side (back) of the knife. Traditionally, a knife with different handle colors was referred to as a "magician's knife" because, with a slight of hand, one could easily create the illusion that the handle color was magically changing.
.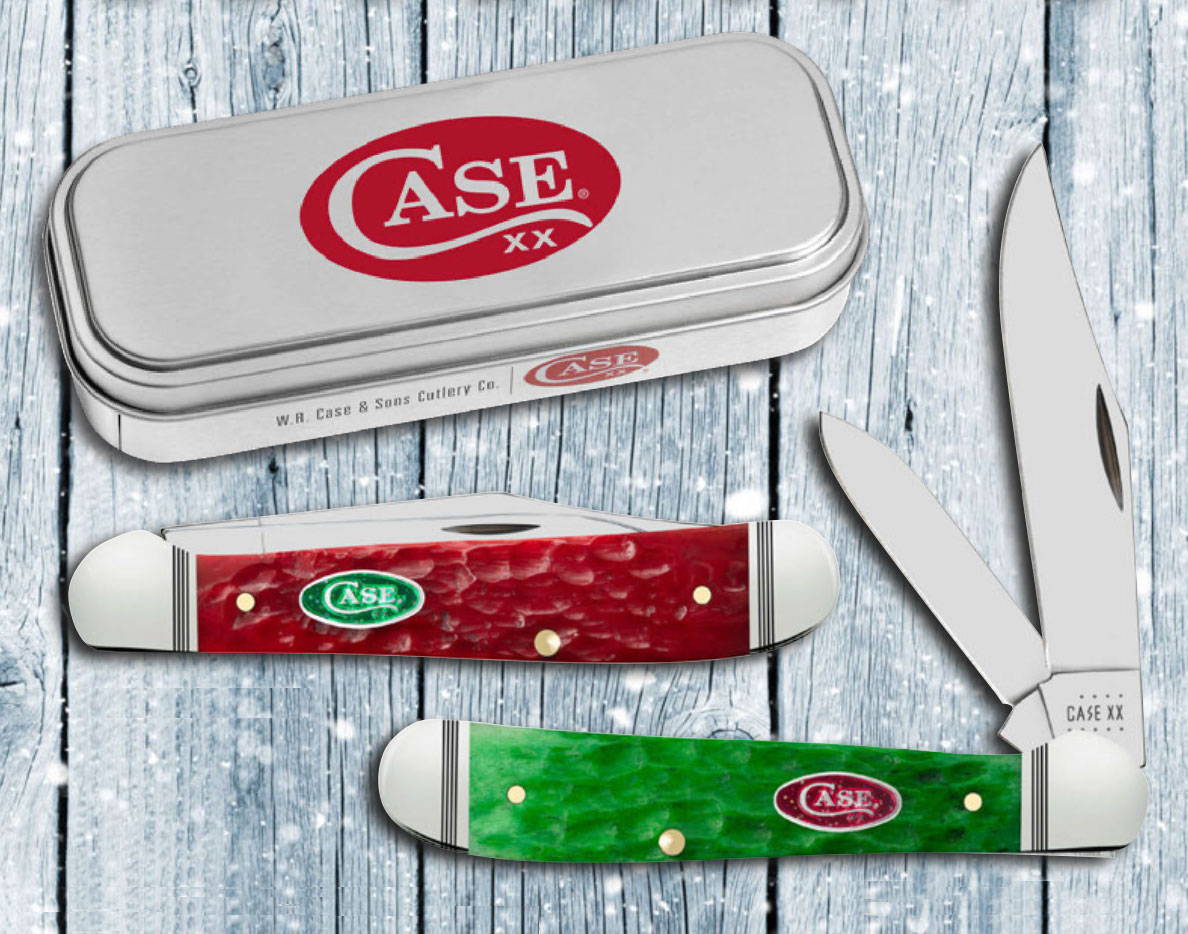 In Red and Green
#10930
Comes packaged in a Christmas-themed gift tin.
This Limited Production knife is ONLY available at the select Case Authorized Dealers listed below.
Knife selections may vary by dealer. Free gift with purchase shown in circular may vary by dealer.
STORE
ADDRESS
CITY
STATE
ZIP
PHONE
ALABAMA
53 FARM & HARDWARE
9210 HIGHWAY 53
ARDMORE
AL
35739
256-420-7310
72 FARM STORE
6025 HWY 72 EAST
GURLEY
AL
35748
256-720-7310
CASE KNIFE OUTLET
6255 HWY 269
PARRISH
AL
35580
800-479-4393
CENTER HILL MARKET
5275 HWY 64
KILLEN
AL
35645
256-757-4265
DAWES HARDWARE
4021 DAWES RD
MOBILE
AL
36695
251-633-2736
DEKALB SPORTSMAN AND PAWN
2310 GAULT AVE NORTH
FORT PAYNE
AL
35967
256-997-0707
GREEN'S DEPENDABLE HARDWARE
15220 HWY 43 SUITE A
RUSSELLVILLE
AL
35653
256-331-0123
LAWRENCE FARM & LUMBER
641 HWY. 129
FAYETTE
AL
35555
205-932-5595
LEWTER HARDWARE COMPANY
222 WASHINGTON ST
HUNTSVILLE
AL
35801
256-539-5777
OXFORD LUMBER / ACE HARDWARE
1400 BARRY STREET
OXFORD
AL
36203
256-831-0540
SOUTHLAND SAFES, INC.
222 SECURITY RD.
HALEYVILLE
AL
35565
205-269-8569
SOUTHLAND SAFES, INC.
1170 HWY 20
TUSCUMBIA
AL
35674
205-269-8569
TALLADEGA HOME CENTER
1104 ASHLAND HWY
TALLADEGA
AL
35160
256-362-2208
UNDERWOOD TRUE VALUE
1104 4TH ST NW
RED BAY
AL
35582
256-356-9556
WEATHERS TRUE VALUE HARDWARE
201 N. BROAD ST.
ALBERTVILLE
AL
35950
256-878-4311
ARKANSAS
BOBS FOOD CITY
742 HWY 270 E
MT. IDA
AR
71957
870-867-3551
F. L. DAVIS CASH LUMBER
160 PARK ST
CLINTON
AR
72031
501-745-6801
HARDMAN LUMBER OF HOT SPRINGS
3940 MALVERN RD
HOT SPRINGS
AR
71901
501-262-4505
HOMERS ACE HARDWARE
2128 WEST BEEBE CAPPS
SEARCY
AR
72143
501-268-3515
KEITHS COINS
1610 HIGHWAY 62 E
MOUNTAIN HOME
AR
72653
870-424-4386
KEN'S DISCOUNT BUILDING MATERIALS, INC.
1200 NORTH WEST AVENUE
EL DORADO
AR
71730
870-862-4917
MIKES GUN SALES & REPAIR LLC
1281 POLK CREEK RD
CADDO GAP
AR
71935
870-490-0539
NELSON HARDWARE & SUPPLIES
115 S. MAIN STREET
CAVE SPRINGS
AR
72718
479-248-7211
THE HARDWARE STORE
5 W TOWNSHIP STREET
FAYETTEVILLE
AR
72703
479-442-6000
ARIZONA
TURQUOISE COWBOY
THE BUTCHER HOOK BLD. 215
TONTO BASIN
AZ
85553
575-418-7934
WILLCOX FEEDS INC. DBA MAID RITE FEEDS
225 S. RAILROAD AVE.
WILLCOX
AZ
85643
520-384-4688
COLORADO
COLUMBINE ACE HARDWARE
6720 S. PIERCE ST.
LITTLETON
CO
80128
303-948-8813
EVERITT MOORE LUMBER
464 MAIN ST
SPRINGFIELD
CO
81073
719-523-6233
FLORIDA
BUDDY AND FREDS HARDWARE
44 HWY. 19 NORTH
INGLIS
FL
34449
352-447-2600
FISHER'S BUILDING SUPPLY
848 HWY 22
WEWAHITCHKA
FL
32465
850-639-5102
G FIVE FEED & OUTDOORS
4960 US HWY. 92 W
PLANT CITY
FL
33563
813-754-5405
HALL'S HARDWARE
6606 CAROLINE ST.
MILTON
FL
32570
850-623-4622
HARVEY'S HARDWARE
5400 LAND O LAKES
LAND O LAKES
FL
34639
813-996-2400
JACKSON BUILDING SUPPLY
937 S. WALNUT ST
STARKE
FL
32091
904-964-6078
PANHANDLE LUMBER
405 WEST HWY 90
BONIFAY
FL
32425
850-547-9354
PUNTA GORDA MERCANTILE
117 W. MARION AVE.
PUNTA GORDA
FL
33950
239-565-6223
SOUTHERN COTTON
1420 SE FEDERAL HWY, STE. 101
STUART
FL
34994
863-241-6360
TAYLOR'S BUILDING SUPPLY INC.
268 HIGHWAY 98
EASTPOINT
FL
32328
850-670-8529
THE OLD GENERAL STORE
513 SE US HWY 27
BRANFORD
FL
32008
386-935-3555
GEORGIA
ACE HARDWARE OF GRIFFIN
126 W. COLLEGE ST.
GRIFFIN
GA
30224
770-233-0902
ADEL OUTFITTERS
1221 W. 4TH STREET
ADEL
GA
31620
229-896-7105
BOLING FARM SUPPLY
2268 DAMASCUS ROAD
HOMER
GA
30547
706-677-0053
COLLETT COUNTRY STORE, INC.
4179 MARIETTA STREET
POWDER SPRINGS
GA
30127
770-439-9277
CORNELIA ACE HARDWARE
283 US HWY 441
CORNELIA
GA
30531
706-778-1223
DAWSONVILLE HARDWARE
18 RAYMOND PARKS ST SOUTH
DAWSONVILLE
GA
30534
706-265-6531
FARMERS & BUILDERS ACE HARDWARE
5909 N. SECOND STREET
FOLKSTON
GA
31537
912-496-7771
FARMERS AND BUILDERS ACE HARDWARE
14133 CLEVELAND STREET
NAHUNTA
GA
31553
912-462-7552
FARMERS AND BUILDERS ACE HARDWARE
3271 US HWY 84 W
BLACKSHEAR
GA
31516
912-449-4726
FARMERS AND BUILDERS ACE HARDWARE
136 INDUSTRIAL ROAD
SYLVANIA
GA
30467
912-564-2003
FORD HARDWARE CUTLERY
3372 CANTON RD STE 118
MARIETTA
GA
30066
770-428-8837
FRANKLIN GUN SHOP
3941 ATLANTA HWY.
ATHENS
GA
30606
706-543-7803
H & H HOME SUPPLY
6 N. CROMARTIE ST; PO BOX 1748
HAZLEHURST
GA
31539
912-375-2826
HOLT'S PHARMACY INC.
406 GRASSDALE ROAD
CARTERSVILLE
GA
30121
770-382-5757
LAVENDER MOUNTAIN HARDWARE
4065 MARTHA BERRY HIGHWAY NW
ROME
GA
30165
706-295-0299
MATHIS TRUE VALUE
44 CARTER RD.
ROME
GA
30165
706-237-6275
MESSER HARDWARE
110 SAXON ST.
BOWDON
GA
30108
770-258-2216
MILLER HARDWARE
3137 N OAK STREET
VALDOSTA
GA
31602
229-245-8054
MILLER HDWE
211 E. HILL AVE.
VALDOSTA
GA
31601
229-244-0924
REEVES ACE HARDWARE
16 SOUTH MAIN STREET
CLAYTON
GA
30525
706-782-4253
THE OUTDOOR DEPOT
250 JOHN W MORROW JR PKWY, SUITE 200
GAINESVILLE
GA
30501
770-539-9356
WALLACE FARM SUPPLY
4343 HWY 27 N
BOWDON JUNCTION
GA
30109
770-834-5291
IOWA
CAHILL PRIBYL JEWELRY & GIFTS
511 MAIN ST.
KEOKUK
IA
52632
319-524-3801
ILLINOIS
HUNT'S HARDWARE & GROCERY
6019 STATE RT 142
DALE
IL
62859
618-773-4260
IDEAL FURNITURE
9 N REND LAKE PLAZA
BENTON
IL
62812
618-663-0642
KUNATHS HARDWARE
214 EAST MAIN ST.
GOLCONDA
IL
62938
618-683-8001
INDIANA
BLOOMINGTON HARDWARE CO. INC
2700 E. COVENANTER DRIVE
BLOOMINGTON
IN
47401
812-339-7575
DANNEMILLER TRUE VALUE
2991 SOUTH GROVE BLVD.
BARGERSVILLE
IN
46106
317-888-4109
DOC'S DO IT BEST
122 NORTH ORANGE
ALBION
IN
46701
260-636-2790
MARTINSVILLE ACE HARDWARE
2064 BURTON LANE
MARTINSVILLE
IN
46151
765-342-6567
MISTER HARDWARE
1035 NORTH LUTHER RD
GEORGETOWN
IN
47122
866-923-9525
NETTLE CREEK ACE HARDWARE
485 EAST MAIN STREET
HAGERSTOWN
IN
47346
765-489-4401
NICHOLSON VALLEY STORE, LLC
10191 E ST RD 56
DUBOIS
IN
47527
812-678-3333
OSSIAN DO IT BEST HARDWARE
105 HEYERLY DRIVE
OSSIAN
IN
46777
260-622-4171
VEVAY MERCANTILE
1063 W MAIN ST
VEVAY
IN
47043
812-427-2511
KANSAS
BLUESTEM FARM & RANCH
2611 WEST HIGHWAY 50
EMPORIA
KS
66801
620-342-5502
KENTUCKY
ACE MT VERNON HARDWARE
315A US HWY 150
MT VERNON
KY
40456
606-256-1479
AMERSON FARMS KNIFE BARN
2731 CINCINNATI PIKE
GEORGETOWN
KY
40324
502-863-3799
BATH COUNTY ACE HARDWARE
88 WATER STREET
OWINGSVILLE
KY
40360
606-674-6022
BEDFORD HARDWARE PLUS
15 HWY 421 N
BEDFORD
KY
40006
502-255-7203
BENGE FARM SUPPLY
870 EAST 4TH STREET
LONDON
KY
40741
606-864-5096
BLUEGRASS ACE HARDWARE
670 UNIVERSITY SHOPPING CTR
RICHMOND
KY
40475
859-623-2380
BORDERS SUMMIT MARKET, INC. dba BORDERS SPORTING GOODS
5876 US 60 WEST
ASHLAND
KY
41102
606-928-6326
CADIZ HARDWARE LLC
1654 MAIN STREET
CADIZ
KY
42211
270-522-1122
CASKEY'S INC. SPORTING DIVISION
2500 US 60 EAST
MOREHEAD
KY
40351
606-784-4242
CHISMS HARDWARE
250 BOONE STATION ROAD
SHELBYVILLE
KY
40065
502-633-2422
CONGLETON BROS PRO HARDWARE
1134 HWY 11 NORTH
BEATTYVILLE
KY
41311
606-464-8101
CRESCENT SPRINGS HARDWARE
2460 ANDERSON ROAD
CRESCENT SPRINGS
KY
41017
859-341-0800
D & J HARDWARE
20 SO. IRVINE RD.
IRVINE
KY
40336
606-723-3200
DOG PATCH
100 DOG PATCH TRAINING CENTER
LONDON
KY
40741
606-864-4531
EDMONTON ACE HARDWARE
805 W. STOCkTON ST
EDMONTON
KY
42129
270-432-7000
FARMERS PRO HARDWARE
1807 NORTH MAIN ST.
LONDON
KY
40741
606-389-5539
FRAZIERS FARMERS SUPPLY
2415 HWY 15
WHITESBURG
KY
41858
606-633-2549
GATEWAY SHOP O ROMA
112 US HWY 68 E
BENTON
KY
42025
270-527-8361
HARDYMON LUMBER
343 EAST SECOND ST
MAYSVILLE
KY
41056
606-564-4071
LOST & FORGOTTEN TREASURE
601 S DIXIE HWY
CAVE CITY
KY
42127
270-773-7400
MAINES HARDWARE
201 W. MARKET STREET
WARSAW
KY
41095
859-567-4611
MEADES DO IT CENTER
218 RIVER DRIVE
IRVINE
KY
40336
606-723-2163
METS HOME VALUE
1501 OAK TREE DRIVE
CENTRAL CITY
KY
42330
270-757-1133
PARKVIEW HOME CENTER, LLC
1109 LINCOLN PARK ROAD
SPRINGFIELD
KY
40069
859-336-9800
PARKWAY PHARMACY
2354 HWY 15
WHITESBURG
KY
41858
606-633-4435
PHILLIPS AGRI DBA BOBBY LEE PHILLIPS
1 THARP DRIVE
CAMPBELLSVILLE
KY
42718
270-789-3085
PIKEVILLE ACE HARDWARE INC
4285 N. MAYO TRAIL
PIKEVILLE
KY
41501
606-432-9766
RED HILL CUTLERY
92 BOURBON TRACE
RADCLIFF
KY
40160
800-378-7120
RISNER HOME CENTER
9080 ELIZABETHTOWN ROAD
BIG CLIFTY
KY
42712
270-242-2641
RUDY'S FARM CENTER
12240 US 60 W
KEVIL
KY
42053
800-526-7615
SCOTTSVILLE ACE HARDWARE
1435 NEW GALLATIN RD
SCOTTSVILLE
KY
42164
270-239-838+
SHADETREE HUNTING SUPPLIES
679 VANCE DRIVE
MT. STERLING
KY
40353
606-336-0623
SHEPHERD HILLS CUTLERY - CHICAGO CUTLERY #4
600 OUTLET AVENUE
EDDYVILLE
KY
42038
800-727-4643
TAYLOR COUNTY TIRE SALES INC.
1636 NEW COLUMBIA ROAD
CAMPBELLSVILLE
KY
42718
270-465-8176
WRIGHT IMPLEMENT CO
1330 PLANO RD
BOWLING GREEN
KY
42104
270-782-8401
LOUISIANA
CBG FIREARMS & AMMO
1025 EAST FIRST ST
DERIDDER
LA
70634
337-202-1887
DIAMOND LUMBER COMPANY
1877 SAM HOUSTON JONES PKWY
LAKE CHARLES
LA
70611
337-855-7714
GIFFORDS TOWN AND COUNTRY
401 EAST MAIN ST.
WINNFIELD
LA
71483
318-628-6946
MICHIGAN
BRASS WORLD, INC.
949 LADD ROAD
WALLED LAKE
MI
48390
248-668-1640
COLONVILLE COUNTRY STORE
7880 E. COLONVILLE RD.
CLARE
MI
48617
989-386-9664
D & D SALES dba CHERRY CUTLERY
1282 DIX HIGHWAY
LINCOLN PARK
MI
48146
734-365-8111
LATHAM'S HARDWARE INC.
37 WEST MAIN
MILAN
MI
48160
734-439-1160
ORTONVILLE ACE HARDWARE
440 N. ORTONVILLE RD
ORTONVILLE
MI
48462
248-627-9217
MISSOURI
OZARK CUTLERY SUPPLY
5230 S. MAIN ST.
JOPLIN
MO
64804
417-782-4998
PLUMMER'S ACE HARDWARE
101 E. LIBERTY STREET
FARMINGTON
MO
63640
573-756-6001
SHEPHERD HILLS CUTLERY - CASE XX CUTLERY
4540 OSAGE BEACH PKWY UNIT C3
OSAGE BEACH
MO
65065
800-727-4643
SHEPHERD HILLS CUTLERY - THE SHOPPES BRANSON MEADOWS
4562 GRETNA RD., UNIT 4260
BRANSON
MO
65616
800-727-4643
SHIPHERD HILLS FACTORY OUTLETS, INC.
1900 W. ELM STREET
LEBANON
MO
65536
800-727-4643
MISSISSIPPI
AGRI FARM & RANCH INC.
5563 HWY. 145
SHANNON
MS
38868
662-566-2121
BELMONT ACE HARDWARE
326 2ND ST.
BELMONT
MS
38827
662-454-7163
BOOKER HARDWARE CUTLERY
119 SOUTH MARKET STREET
HOLLY SPRINGS
MS
38635
662-252-2331
EAST MISSISSIPPI LUMBER CO.
300 RUSSELL ST
STARKVILLE
MS
39759
662-323-3554
JACK'S HOME IMPROVEMENT CENTER
567 COWART STREET
LUCEDALE
MS
39452
601-947-7431
MAIN STREET FARM & OUTDOORS
315 MAIN ST.
LEAKESVILLE
MS
39451
601-394-8139
McDANIEL'S GENERAL MDSE.
496 HWY 49
MCHENRY
MS
39561
601-928-7452
MOORES FEED STORE
3261 HWY 15 N
PONTOTOC
MS
38863
662-488-2980
PHILLIPS BUILDING SUPPLY
1104 HWY 15 NORTH
LAUREL
MS
39440
601-649-0855
THOMAS DRILLING & SUPPLY
206 GRAHAM STREET
CARTHAGE
MS
39051
601-267-9600
VAN'S DEER PROCESSING
777 HWY. 468
BRANDON
MS
39042
601-825-9087
MONTANA
LIBERTY & VINE COUNTRY STORE
2019 MONTANA AVE.
BILLINGS
MT
59101
406-534-8667
NORTH CAROLINA
ACE HARDWARE ARCADIA
8201 N NC HWY 150
CLEMMONS
NC
27012
336-775-2775
BELL SUPPLY CO.
701 GREEN SEA RD.
TABOR CITY
NC
28463
910-653-3810
BETHLEHEM ACE HARDWARE
9433 NC HWY 127
HICKORY
NC
28601
828-495-8351
BUFFALO SHOALS HARDWARE
2887 BUFFALO SHOALS ROAD
NEWTON
NC
28658
828-464-0817
BURNEY HDWE CO
11865 HWY 15-501 S
ABERDEEN
NC
28315
910-944-1516
CASWELL MERCANTILE
110 MAIN ST.
YANCEYVILLE
NC
27379
336-694-4802
CHESTNUT FORGE AND FURNITURE
3946 US HIGHWAY 64
RUTHERFORDTON
NC
28139
828-755-6563
CHURCH HARDWARE COMPANY
1514 WEST D STREET
NORTH WILKESBORO
NC
28659
866-454-2762
FORT DOBBS HARDWARE
406 TURNERSBURG HWY
STATESVILLE
NC
28625
704-872-2300
HAYWOOD ACE HARDWARE
1391 DELLWOOD ROAD
WAYNESVILLE
NC
28786
828-926-0300
HOMETOWN HARDWARE & GARDEN CENTER
110 SOUTH RAILROAD AVE.
KINGS MOUNTAIN
NC
28086
704-739-4731
HW LITTLE & COMPANY
109 SOUTH GREEN STREET
WADESBORO
NC
28170
704-694-2213
JAMES TRADING CO.
317 N EAST ST
ROSEBORO
NC
28382
910-525-5353
KEITH HARDWARE
207 MONROE STREET
CARTHAGE
NC
28327
910-947-5294
MEADOW MARKET MERCHANTS, LLC.
7358 NC HWY 50 S.
BENSON
NC
27504
919-902-2180
MURPHY BUILDING SUPPLY
551 HILL STREET
MURPHY
NC
28906
828-837-7717
SAWMILLS HARDWARE & SUPPLY
3969 US 321-A
HUDSON
NC
28638
828-396-3056
SPENCER'S ACE HARDWARE
1612 RUTHERFORD ROAD
MARION
NC
28752
828-652-8045
UNION GROVE GENERAL STORE
1932 WEST MEMORIAL HWY.
UNION GROVE
NC
28689
704-539-4643
WEST JEFFERSON T/V HARDWARE
4 WEST MAIN STREET
WEST JEFFERSON
NC
28694
336-246-3421
WILLIAMS HARDWARE
8768 US HWY 311
ARCHDALE
NC
27263
336-431-1413
OHIO
BIDWELL HARDWARE
8997 STATE RT 160
BIDWELL
OH
45614
740-446-8828
BOWMANS CARRY OUT LLC dba BLUE CREEK GENERAL STORE
21309 STATE RT 125
BLUE CREEK
OH
45616
937-544-5147
HAYES TRUE VALVE
401 MAIN STRET
CALDWELL
OH
43724
740-732-4225
J L GROSS LUMBER COMPANY
645 CENTRAL AVE
CARLISLE
OH
45005
937-746-6468
KENNY QUEEN'S HARDWARE
6270 COUNTY RD 107
PROCTORVILLE
OH
45669
740-886-8084
LIBERTY WESTERN
727 CINCINNATI AVE.
LEBANON
OH
45036
513-933-0900
MAD RIVER KNIFE & SUPPLY
130 S MAIN ST, SUITE B107
BELLEFONTAINE
OH
43311
937-651-1162
O'DELL TRUE-VALUE LUMBER
61 VINE STREET
GALLIPOLIS
OH
45631
740-446-1276
PLANKTOWN HARDWARE
8128 PLANKTOWN RD
SHILOH
OH
44878
419-896-3581
OKLAHOMA
CURRELL'S DO IT CENTER
3106 S. HWY. 6
ELK CITY
OK
73644
580-225-1941
CURRY HARDWARE
115 WEST 4TH STREET
WEWOKA
OK
74884
405-257-5458
D & B BOOT AND SHOE SHOP
2113 WEST MAIN ST.
NORMAN
OK
73069
405-329-8787
HEALDTON FAMILY CTR
10893 HWY 76
HEALDTON
OK
73438
580-229-0278
KEITH HARDWARE & SUPPLY
911 SOUTH LEE
FORT GIBSON
OK
74434
918-478-2327
MAC'S ELECTRIC SUPPLY COMPANY
1624 EAST 3RD STREET
TULSA
OK
74120
918-583-3101
ROLAND ROAD HARDWARE
817 SOUTH ROLAND RD
ROLAND
OK
74954
918-503-6550
RON'S LUMBER & HOME CENTER
37850 US HWY 59
HOWE
OK
74940
918-658-3857
SASSER & COMPANY ANTIQUES
147 S. MAIN ST
PERKINS
OK
74059
405-547-5298
SHAWNEE FEED CENTER
40006 HARDESTY ROAD
SHAWNEE
OK
74801
405-214-3333
TH ROGERS LUMBER
405 E MAIN ST
DAVIS
OK
73030
580-369-3119
WHITEYS PAWN & TOOLS
400 E. MORROW RD
SAND SPRINGS
OK
74063
918-241-5874
OREGON
BOBCAT OF CENTRAL OREGON
63084 CRUSHER AVE.
BEND
OR
97703
541-389-2347
PENNSYLVANIA
BIONDI'S FEEDS
2082 OLD STATE ROAD
JOHNSONBURG
PA
15845
814-965-5011
FIELD STREET BOOTS
18 FIELD ST.
KANE
PA
16735
814-837-2400
HOMETOWN GOLD BUYERS INC.
1218 SCALP AVE.
JOHNSTOWN
PA
15904
814-262-8044
KEROLA'S CAMPERS INC.
3610 N. HERMITAGE RD.
TRANSFER
PA
16154
724-962-4561
SOUTH CAROLINA
SHIP SHAPES
117 N. GRANARD STREET
GAFFNEY
SC
29341
864-489-8906
SIMPSON HARDWARE & SPORTS
40 W. WESMARK BLVD.
SUMPTER
SC
29150
803-773-3397
SIMPSON MANNING HARDWARE
110 N BROOKE STREET
MANNING
SC
29102
803-435-2651
TERRY'S DO IT BEST
5275 HWY 501 W.
CONWAY
SC
29526
843-365-9300
WAGON WHEEL ANTIQUES & CAFÉ
1918 GENTRY MEMORIAL HWY, STE. A
EASLEY
SC
29640
864-507-0250
WESTBURY ACE HARDWARE
1050 BELLS HIGHWAY
WALTERBORO
SC
29488
843-539-3333
SOUTH DAKOTA
GREGORY BUILDING CENTER
122 SOUTH MAIN STREET
GREGORY
SD
57523
605-835-8781
TENNESSEE
A.J CUSTOM LEATHER
3380 # 1 FORGE HIDEAWAY ROAD
PIGEON FORGE
TN
37863
865-453-1576
ACE HDWE OF NEWPORT
232 W. BROADWAY
NEWPORT
TN
37821
423-625-5900
BEATY HARDWARE
650 WILDWOOD AVE SE
CLEVELAND
TN
37311
423-472-2124
BUILDERS SUPPLY & DIB RENTAL CENTER
111 FORESTDALE
SOUTH FULTON
TN
38257
731-479-3140
CELINA LUMBER
1223 MITCHELL STREET
CELINA
TN
38551
931-243-3315
CITY LUMBER CO. OF DYER INC.
183 EAST MAPLE STREET
DYER
TN
38330
731-692-2287
CLINTON DRUG STORE
1130 N. CHARLES SEIVERS BLVD.
CLINTON
TN
37716
865-457-1421
COLLECTORS GENERAL STORE
24 RAILROAD SQUARE
BELL BUCKLE
TN
37020
931-813-3300
COUNTRY CUPBOARD
1782 WEST AVE.
CROSSVILLE
TN
38555
931-210-5886
DUNCAN LUMBER
409 FIRST AVE.
NEW TAZEWELL
TN
37825
423-626-7225
DUREN PHARMACY
215 DEXTER L WOODS MEM BLVD.
WAYNESBORO
TN
38485
931-722-5466
ELDERS ACE HARDWARE
10009 HARDIN VALLEY RD.
KNOXVILLE
TN
37932
865-240-0961
ELDERS ACE HARDWARE OF ROCKY HILL, LLC.
7511 S. NORTHSORE DR.
KNOXVILLE
TN
37919
865-690-0876
ELDERS ACE HDWE DALLAS
8531 HIXSON PIKE
HIXSON
TN
37343
423-842-0106
ELDERS ACE HDWE EAST NASHVILLE
2620 GALLATIN PIKE
NASHVILLE
TN
37216
ELDERS ACE HDWE HALLS
6950 MAYNARDVILLE PIKE
KNOXVILLE
TN
37918
865-925-4575
FIRST CHOICE FARM & LAWN DBA CYPRESS CREEK OUTDOORS
305 HWY 51 BYPASS NORTH
DYERSBURG
TN
38024
731-287-1470
FIRST FARMERS COOP
432 W MAIN ST
DECATURVILLE
TN
38329
731-852-3731
FIRST FARMERS CO-OP
1535 WAYNE ROAD
SAVANNAH
TN
38372
731-925-3931
FOUR SEASONS NURSERY & GARDEN CENTER
2489 HWY 45 SOUTH
JACKSON
TN
38301
731-424-0736
FRANKLIN FARMERS CO-OP
2229 DECHERD BLVD
DECHERD
TN
37324
931-967-5511
FUSSELL'S SHOP
103 N MAIN ST
DICKSON
TN
37055
615-446-3724
GIBSON FARMERS CO-OP
1210 MANUFACTURERS ROW
TRENTON
TN
38382
731-855-1891
GORDONSVILLE DRUGS
8 NEW MIDDLETON HWY.
GORDONSVILLE
TN
38563
615-683-4400
HAZEL'S HAIR STYLES & STUFF
115 MAIN STREET
JACKSBORO
TN
37757
423-566-3441
HIGHLAND HARDWARE
219 E SPRING ST
COOKEVILLE
TN
38501
877-586-3371
KINGSTON SCANDLYN LUMBER CO.
801 LARRY BYRD RD.
KINGSTON
TN
37763
865-376-5585
LAFAYETTE ACE HARDWARE
411 HIGHWAY 52 BY PASS EAST
LAFAYETTE
TN
37083
615-666-7276
LEBANON ANTIQUE MALL
101 SHORT ST.
LEBANON
TN
37087
615-489-0227
MACON HARDWARE & SUPPLY COMPANY
308 SCOTTSVILLE RD
LAFAYETTE
TN
37083
615-666-2387
PARIS BUILDING SUPPLY
1180 N. POPLAR ST.
PARIS
TN
38242
731-642-0223
PIONEER BUILDING SUPPLY
231 NORTHGATE DR, SUITE 260
MCMINNVILLE
TN
37110
931-473-1555
SELLS BLDG SUPPLY, INC.
3275 MAIN STREET
PIKEVILLE
TN
37367
423-447-2138
SMITH ACE HARDWARE
116 EAST CENTRAL AVENUE
LAFOLLETTE
TN
37766
423-562-7738
SMOKY MOUNTAIN KNIFE WORKS
2320 WINFIELD DUNN PKWY
SEVIERVILLE
TN
37876
800-251-9306
TOWNSEND SHOPPING CTR
7609 OLD HWY 73
TOWNSEND
TN
37882
865-448-6915
UNITED FARM & HOME CO-OP
975 RIVERVIEW LANE
COLUMBIA
TN
38401
931-388-0714
WATERTOWN DRUGS
406 PUBLIC SQUARE
WATERTOWN
TN
37184
615-237-0054
WILLIAMS LUMBER & BUILDING SUPPLY
20 MONTY DRIVE
SAVANNAH
TN
38372
731-925-4202
WILLIAMS PLUMBING & ELECTRIC
52 FIRST STREET
LEXINGTON
TN
38351
731-968-3501
WM ENTERPRISES LLC dba SMOKER FRIENDLY II
933 N. CHARLES G. SEIVERS BLVD.
CLINTON
TN
37716
865-463-8164
YATES HOME STORE
8815 HWY 68
TELLICO PLAINS
TN
37385
423-253-3133
TEXAS
ALAMO SUPPLY
308 HOUSTON STREET
MAUD
TX
75567
903-585-3302
AVONLEA JEWELERS LLC
84 N. LHS DRIVE
LUMBERTON
TX
77657
409-227-0418
BEVERLY'S HARDWARE
715 EAST UNIVERSITY DRIVE
EDINBURG
TX
78539
956-383-1581
BORDERLAND HARDWARE OF MERCEDES, INC.
205 SECOND STREET
MERCEDES
TX
78570
956-565-2181
CIRCLE P FEED
1422 FM 2223
BRYAN
TX
77808
979-778-0978
CITY GLASS & MORE
201 1/2 HWY 82W
NEW BOSTON
TX
75570
903-628-2369
CORDELL FARM & RANCH STORE
701 E. MULBERRY ST.
KAUFMAN
TX
75142
972-932-2164
CRAWFORD SMITH INC.
2210 LEE ST.
GREENVILLE
TX
75401
903-455-1220
CROWE COMPANY
7257 ST HWY 79 EAST
MILANO
TX
76556
512-455-6789
DELEON PHARMACY
309 S TEXAS ST
DELEON
TX
76444
254-893-2666
EAST TEXAS HARDWARE
1111 N. KILGORE
KILGORE
TX
75662
903-984-2036
EBERHARD LUMBER COMPANY
1445 MCQUEENEY ROAD
NEW BRAUNFELS
TX
78130
830-625-4616
FIVE OAKS HARDWARE
3375 THOUSAND OAKS DRIVE
SAN ANTONIO
TX
78247
210-865-0292
H-BRAND LIVESTOCK PET & GARDEN SUPPLY
680 N. MAIN
JACKSBORO
TX
76458
940-567-3794
HOMETOWN HARDWARE INC
1341 HERITAGE BLVD.
LONGVIEW
TX
75605
903-291-1120
JR MURPHY & CO
121 E RICE STREET
FALFURRIAS
TX
78355
361-325-5346
KEELER ENT. INC.
269 TEXAS STATE HWY. 62
BUNA
TX
77612
409-994-3501
MACI FEED & SUPPLY
10769 HWY. 146 NORTH
LIBERTY
TX
77575
936-298-9404
McDANIEL CUSTOM SADDLES
9528 E FM 917
ALVARADO
TX
76009
817-790-6446
POTETZ HOME CENTER
2516 N. MAIN STREET
LIBERTY
TX
77575
936-336-5717
POTETZ HOME CENTER
401 NORTH WASHINGTON
CLEVELAND
TX
77327
281-592-8777
PRICE HARDWARE
302 NORTH WILLIAM
ATLANTA
TX
75551
903-796-7995
ROCKIN M BOUTIQUE
302 NUECES STREET
GEORGE WEST
TX
78022
361-449-1811
ROGERS MARINE INC.
1221 MAGNOLIA ST
TEXARKANA
TX
75501
903-792-8253
ROWLETT HARDWARE
1460 W. HENDERSON
CLEBURNE
TX
76033
817-645-7277
ROWLETT HARDWARE
102 S LOUISIANA STREET
GRANDVIEW
TX
76050
817-866-2070
ROWLETT HARDWARE - RIO VISTA
811 NORTH HWY. 174/ PO BOX 98
RIO VISTA
TX
76093
817-373-3389
ROWLETTS CORNER POST HARDWARE
201 N MAIN
GODLEY
TX
76044
817-389-3788
TATUM FLOORS & CONSTRUCTION, LLC dba HOMETOWN FLOOORS
1101 W MAIN ST
GATESVILLE
TX
76528
254-248-2816
TEXAS FEED STOP
9534 N. HWY 146
MONT BELVIEW
TX
77580
281-385-6068
TOWN & COUNTRY SALES LLC.
5215 SJOLANDER RD
BAYTOWN
TX
77521
281-421-1904
VIRGINIA
PAGE CO-OP FARM BUREAU, INC.
127 BIG OAK RD.
LURAY
VA
22835
540-743-5194
S SOLENBERGER & COMPANY
832 BERRYVILLE AVE
WINCHESTER
VA
22601
540-662-3457
WALLACE FURNITURE & HARDWARE
5711 REDBUD HIGHWAY
HONAKER
VA
24260
276-873-4211
WEST VIRGINIA
BRANDYWINE GENERAL STORE
11754 BLUE GRAY TRAIL
BRANDYWINE
WV
26802
304-249-2345
FOSTER FEED
202 BLAND STREET
WESTON
WV
26452
304-269-1333
GENERAL BUILDING SUPPLY
618 7TH AVE
HUNTINGTON
WV
25701
304-529-2551
HARTS PRO HARDWARE
616 ELK STREET
GASSAWAY
WV
26624
304-364-5282
JANE LEW HOME CENTER
5930 MAIN ST
JANE LEW
WV
26378
304-884-7666
KENNY QUEEN'S HARDWARE
4350 5TH STREET RD.
HUNTINGTON
WV
25701
304-523-2331
KENNY QUEEN'S HARDWARE
45 MCGINNIS DRIVE
WAYNE
WV
25570
304-272-5185
KENNY QUEEN'S HARDWARE
625 OAK STREET
KENOVA
WV
25530
304-453-1361
KENNY QUEEN'S HARDWARE
5840 DAVIS CREEK RD.
BARBOURSVILLE
WV
25504
304-736-1177
MCCOY SUPPLY & PRO HARDWARE
944 POINT PLEASANT ROAD
MILLWOOD
WV
25262
304-512-7851
TERRELLS METAL AND FARM SUP
4938 PARKERSBURG RD
REEDY
WV
25270
304-927-8269