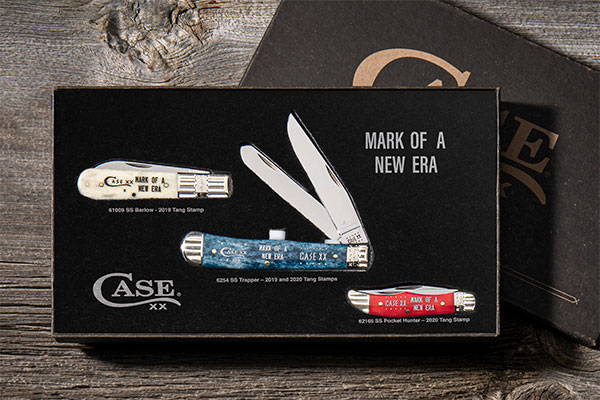 To commemorate the turn of a decade, and the transition from old to new, the "Mark of a New Era" set features three distinctively patriotic knives together in one stunning package. The set features two decades of tang stamps, across three knives with intricately detailed bolster engraving and "Long Tail C" consecutive serialization. Limited to just 300 numbered sets, the collection is truly a once in a lifetime offering. This special edition set is available for purchase only at the participating dealers listed below, while supplies last.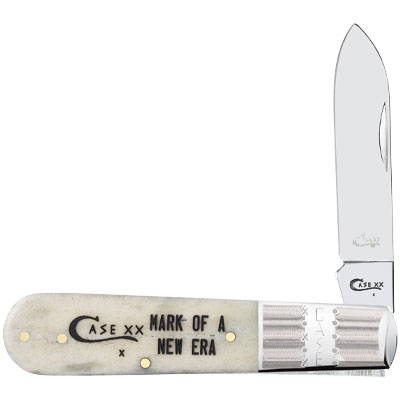 The 2010-2019 decade tang stamp --Long Tail C with Xs and Dots -- is represented by the 2019 vault pattern, the Barlow, featuring a Smooth Natural Bone handle.
Bridging the two decades, and carrying both decade tang stamps, is the exalted Trapper, featuring a smooth Mediterranean Blue Bone handle.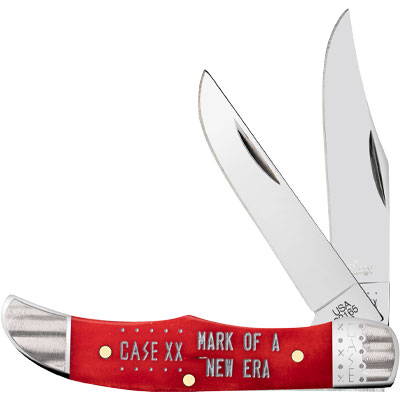 Pocket Hunter
2020 Vault Pattern

The 2020-2029 tang stamp --Square Case with Dots-- is represented by the 2020 vault pattern, the Pocket Hunter, featuring a Smooth Dark Red Bone Handle.
Quantities are extremely limited so we recommend calling ahead to find out if this item is still available.
Case Knife Outlet
6255 Hwy 269
Parrish, AL 35580
Phone: (205) 686-7895
St. Nicks Knives
1124 US HWY
Athens, AL 35611
Phone: (256) 444-2275
Harvey's Hardware
5400 Land O Lakes Blvd
Land O Lakes, FL 34639
Phone: (813) 996-2400
Alexanders Store
4482 Town Creek School Rd
Blairsville, GA 30512
Phone: (706) 745-6450
Collett Country Store
4179 Marietta St
Powder Springs, GA 30127
Phone: (770) 439-9277
Ossian Hardware
105 Heyerlys Drive
Ossian, IN 46777
Phone: (260) 622-4171
Amerson Farms Knife Barn
2731 Cincinnati Pike
Georgetown, KY 40324
Phone: (502) 863-3799
Houchens Ace Hardware
3170 Louisville Road
Bowling Green, KY 42101
Phone: (270) 793-9766
Parkview Home Center
1109 Lincoln Park Rd
Springfield, KY 40069
Phone: (859) 336-9800
Bluegrass Ace Hardware
670 University Shopping Center
Richmond, KY 40475
Phone: (859) 623-2380
Maines Incorporated 596718
201 West Market St
Warsaw, KY 41095
Phone: (859) 567-5311
Red Hill Cutlery
92 Bourbon Trace
Radcliff, KY 40160
Phone: (270) 351-2273
Bluegrass Mountain Knives
337 N Bardstown Rd
Mt. Washington, KY 40047
Phone: (502) 538-4232
Mets Home Value
1501 Oak Tree Dr
Central CIty, KY 42330
Phone: (270) 757-1133
Rudys Farm Center
12240 Us 60 West
Kevil, KY 42053
Phone: (270) 462-3156
Brass World, Inc.
949 Ladd Road
Walled Lake, MI 48390
Phone: (248) 668-1640
Booker Hardware
119 South Market Street
Holly Springs, MS 38635
Phone: (662) 252-2331
Crane's Store
10675 Old US Highway 40
Williamsburg, MO 63388
Phone: (573) 254-3311
Shepherd Hills Factory Outlets
1900 W Elm Street
Lebanon, MO 65536
Phone: (417) 532-7000
Becky's Flowers & Gifts Inc
1637 US Hwy 19 E
Spruce Pine, NC 28777
Phone: (828) 765-1128
Union Grove General Store
1932 West Memorial Hwy
Union Grove, NC 28689
Phone: (704) 539-4643
Buffalo Shoals Hardware
2887 Buffalo Shoals Rd
Newton , NC 28658
Phone: (828) 464-0817
Montgomery Farm & Garden
702 N Main Street
Troy, NC 27371
Phone: (910) 572-3990
Chestnut Forge & Furniture
3946 US 64 Hwy
Rutherfordton, NC 28139
Phone: (828) 755-6563
Surf & Turf
115 E Anderson St
Selma, NC 27576
Phone: (919) 965-5343
Fin, Feathers, Fur Outfitters
816 Clark Ave
Ashland, OH, 44805
Phone: (419) 281-2557
Hayes True Value Hardware
401 Main Street
Caldwell, OH 43724
Phone: (740) 732-4225
Currell's Do It Center 3952
3106 S Hwy 6
Elk City, OK 73644
Phone: (580) 225-1941
Zippo/Case Museum & Flagship Store
1932 Zippo Drive
Bradford, PA 16701
Phone: (814) 368-1932
Jungle J Knives & Hats
2245 Rutherford Rd
Greenville, SC 29609
Phone: (864) 292-6670
Carroll Farmers Cooperative
21495 E Main St
Huntingdon, TN 38344
Phone: (731) 986-8271
Highland Hardware
219 E Spring St
Cookeville, TN 38501
Phone: (931) 526-2542
Daus Building Supply
1827 Press Picket Rd
Whitwell, TN 37397
Phone: (423) 949-2820
Smoky Mountain Knife Works
2320 Winfield Dunn Pkwy
Sevierville, TN 37876
Phone: (800) 251-9306
Fussell's Shop
103 N Main Street
Dickson, TN 37055
Phone: (615) 446-3724
Townsend Shopping Center
7609 Old Hwy 73
Townsend, TN 37882
Phone: (865) 448-6915
East Texas Hardware
1111 N Kilgore
Kilgore, TX 75662
Phone: (903) 984-2036
Town & Country Sales
5215 Sjolander Rd
Baytown, TX 77521
Phone: (281) 421-1904
Texas Knives & Collectibles
13250 FM 92 South
Spurger, TX 77660
Phone: (409) 429-3461
Alamo Supply
308 Houston Dr
Maud, TX 75567
Phone: (903) 585-3302
Teskey's Saddle Shop
3001 West I-20
Weatherford, TX 76087
Phone: (817) 599-3400
General Building Supply
618 7th Ave
Huntington, WV 25701
Phone: (304) 529-2551
Terrells Metal And Farm Supply
4938 Parkersburg Rd
Reedy, WV 25270
Phone: (304) 927-8269