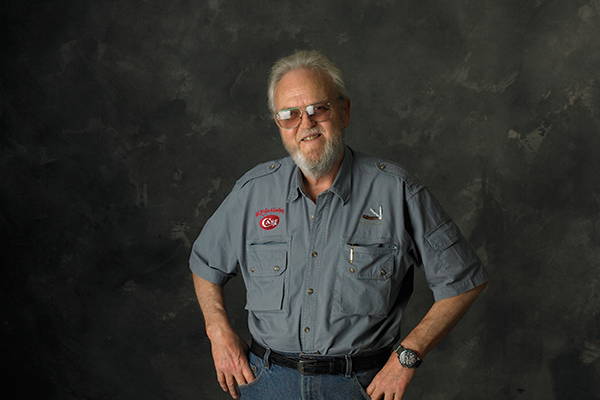 Yesterday Case's collective heart was broken by the news that our dear partner, friend, and colleague, Tony Bose, passed away over the weekend.
To say Tony's influence on Case made us better at our craft is an understatement. Tony Bose was more than a bladesmith, more than a knife maker, and more than a friend to this organization. He truly helped us reach further and expand our capabilities. He led us into the world of custom makers and helped us understand the importance of knife companies being engaged in that world.
Indeed, the collaborative knife projects that we took on with Tony represent some of the finest knives ever produced with the Case® brand's stamp on them. Tony and Case joined forces to produce its first collaboration in 1999, a Slimline Trapper, and each subsequent year's newest edition was something true aficionados eagerly anticipated. Since then, Case and Bose have crafted dozens of knives together, including several that have become staples in the Case product lineup year after year.
If you encountered Tony at a consumer event, at a trade show, or in a hotel lobby you'd most likely see him enjoying the company of friends, mostly because he had a real way with words. Some of our favorite "Tonyisms" include, "that's just cuter than a speckled pup" or "that's as strange as boots on a rooster!"
Tony had an unquenchable thirst for the knife trade. He could rattle off the smallest detail of a knife made hundreds of years ago, when it was introduced, which maker was responsible for it, what catalog it appeared in, and in what year – and then tell you how many of them he'd personally seen.
Tony was also one of the most sought-after teachers of the trade, often sharing his own shop secrets to even the newest novice. Tony's commitment to helping others in the trade earned him the Knife Makers Guild's Red Watson Memorial Friendship Award in 2008; a significant achievement because it's awarded by peers who are voting members of the organization. Some of Tony's other industry awards include Best Folding Knife honors at the 1994 East Coast Custom Knife Show and the 1995 and 1998 BLADE Shows. In 2019 he was inducted into BLADE Magazine's Cutlery Hall of Fame.
Tony made his very first knife from a hack saw blade he received from a friend. It was the start of his quest to turn his part-time hobby into a lifelong passion and a successful career that would span decades.
Friends called Tony the "Old Dog." All of his friends at Case feel very fortunate to have called him "teacher."
Please join us in sharing your hearts, prayers and condolences with Tony's family, fellow friends, and "students."